2019/2020 Season sure to be a great year as 2018/2019 has come to a close!
---
---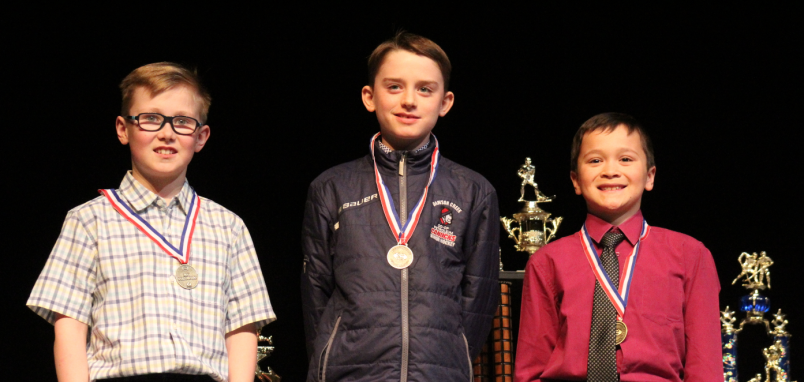 ---
Dawson Creek Minor Hockey wrapped up their season with awards last Wednesday.
The midget female team — coached by Karli Paterson, with Jason Stark as assistant coach and Janis Fulton as manager — earned the DCMHA team of the year award.
Pre-novice player Tolor Gies and novice player Ella Armstrong won the Tyler & Chantel Graham Memorial Awards for dedicated team players in the younger age groups.
Rylan Fulton won the Sheena Heaton Award for junior girls, while Azalyn Kotak won the Lindsay Dellow Award for senior girls.
Kale Weber won the Senior Canuck Award for atom development players, Molly Hamilton won the Christian "Cree" Cooper "Spirit of Hockey" Memorial Award for peewee rep players, Parker Wilson won the Operating Engineers Award for bantam rep players, and Gabe Leroux took home the Smitties Bruins-Herb Hamilton Award for midget house players.
Jacob Norman won the Wes Armstrong Commitment to Excellence Award for goaltenders.
For midget rep awards, Tony Heartt won the Lincoln Cousins Memorial Award for outstanding defensive player, while Sawyer Strasky took the John Sereda Memorial Award for outstanding and dedicated team player.
Corbyn Gellings (atom), Maya Morgan (peewee), Jacob Norman (bantam), and Ethan Webber (midget) won the Oldposts Awards for sportsmanship.
Sydnie Stark won the Oldtimers Award for the most sportsmanlike female midget player.
Sheldon Shevkenek was named to the DCMHA Ref Award, while Mitch Palfi and Pro-Well Contracting earned sponsor of the year.
Mke Harris won the Stu Minifie Memorial Award for his work as a volunteer.
Joe Costa won the pre-novice/novice coaching award, the Boots Tisdale Memorial Award, while Dustin Hussey took home the Ron St. Germain Memorial Award, the atom to midget coaching award. Linley Willich won the Tom Hamilton Memorial Award for his unselfish contribution to the association. Donna Davidson won the Ladies Auxiliary Award, a community award for supporters of minor hockey.
Ali Arnold, Ben Delisi, Carter Bennetts, Easton Mooy, Ethan Howell, Evan Gurnsey, Gavin Wagar, Jesse Johnson, Sheldon Shevkenek, Jon Kocis, Lane Huber, Maddox Pierce, Molly Hamilton, Morgan Hamann, Owen Wilkinson, Zayne Mock, Samantha Gurnsey, and Trey Oswald were recognized as first year refs.
Graduating midgets were also recognized — Tristen McIntyre, Jeremy Jahn, Sawyer Strasky, Kaden Chandler, Logan Garrison, Ryan Buchan, Cody Eckel, Juliana Reid, Sydnie Stark, and Morgan Madsen.
Esso Awards for most dedicated, most improved, and most sportsmanlike were also handed out.
Colten Lenart, Ricky Dufour, Parx Meeres, Rykker Kurka, Hayden Moxon, Ben Dufresne, Dominik Rhode, Nixon Radke, Zack Rudy, Trayton Matheison, Ethan Chmelyk, Sloan Johnston, Kale Warnke, Clark London, Anna Atkinson, Nash Pierce, Beans Manzuik, Boston Meadows, Dylan Costa, Jaxson Kurjata, Jacob Fung, Hunter Bull, Fynn Neufeld, Zayden Heselwood, Reese Juell, Addisen Lenart, Ryder Gauthier, Zachary Shevkenek, Roasalie Harper, Seth Gurnsey, Senna Gunsolley, Dane Ross, Roy Hunsbedt, Joshua Fung, Colby Trotter, Hunter Patterson, Sheldon Shevkenek, Lane Huber, Evan Gurnsey, Zac Juell, Olivia Harris, Justus Price, Owen Wilkinson, Kyler Darnbrough, Stasha Heibert, Andrew Holloway, Seth Pliece, Aaron Maltais, Trey Oswald, Jaxon Perdue, Stone Kassen, Tristen McIntyre, Tyler Wessell, Ryder Lefferson, Azalyn Kotak, Kennedy Shevkenek, Sydnie Stark, Brennon Schwartz, Griffin Pillsworth, and Sean Esau all received Esso Awards.